Cryptocurrency investment is one of the hot topics right now in India because of its growth and past returns. To invest in cryptocurrency, we need an account on a cryptocurrency exchange. There are so many local and international exchanges available for cryptocurrency. If you invest in local exchanges, then there is no issue with withdrawing your money, but problems arise when you want to withdraw your money from international exchanges like Binance, Kucoin, Mexc, etc. Binance is the most popular among them for many reasons. In this article, we'll discuss different methods of how to withdraw money from Binance in India.
Table of Contents
Why Binance?
As we discussed above that Binance is most popular and trusted platform among all the Cryptocurrency exchanges. Here are some reasons:
Vast number of Cryptocurrencies are available to trade: Binance has a vast number of cryptocurrencies available for trading as compared to other local crypto exchanges. You can also send those coins to your crypto wallet for long-term investment by spending a minimal fee.
Volume: As Binance is an international exchange and the most popular, volume on Binance is very high, so your orders will be successfully executed in just a few seconds if the price reaches your marked price. You don't need to wait for sellers or buyers for your order to be executed.
Security: There are thousands of cryptocurrencies available in the market, but it is quite challenging to identify which cryptocurrencies are safe, reliable, and have scope for growth. Binance makes it easy for users because they regularly monitor every crypto project and delist it accordingly. Additionally, Binance also announced its proof of reserve recently, which assured us that our fund is safe on Binance.
Lot of features: If you wish to do futures trading, marginal trading, or leverage trading, then Binance will provide you option to do every type of trading. Also, Binance has a staking feature that allows you to earn passive income from your Cryptocurrency.
How to withdraw money from Binance in india
P2P Method
Peer-to-peer is one of the best and easiest methods to sell your cryptocurrency and get your money in your bank account instantly.
Steps for P2P Method:
Step 1: Go to the Binance app or website and click P2P trading.
Step 2: Go to the sell option (make sure you converted your crypto to USDT for easy operation).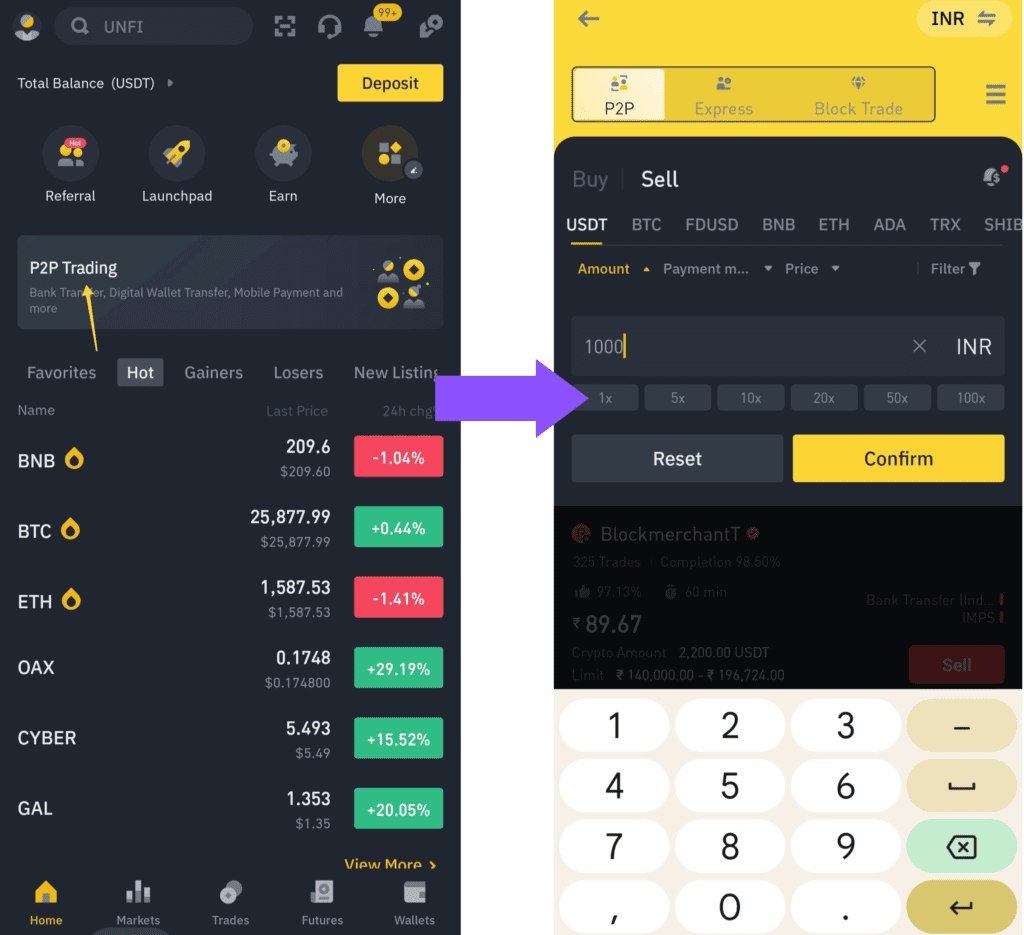 Step 3: There are many traders available for P2P trades in the sell option. Set the amount in rupees that you want to sell. Now you have to find one who has 1. yellow tick on their name. 2. Completion should be 100%. 3. Large number of trades 4. Payment method of your choice. These four points protect you from scammers.
Step 4: Click the Sell button, fill in how much USDT or how much rupees you want to sell, and select payment method.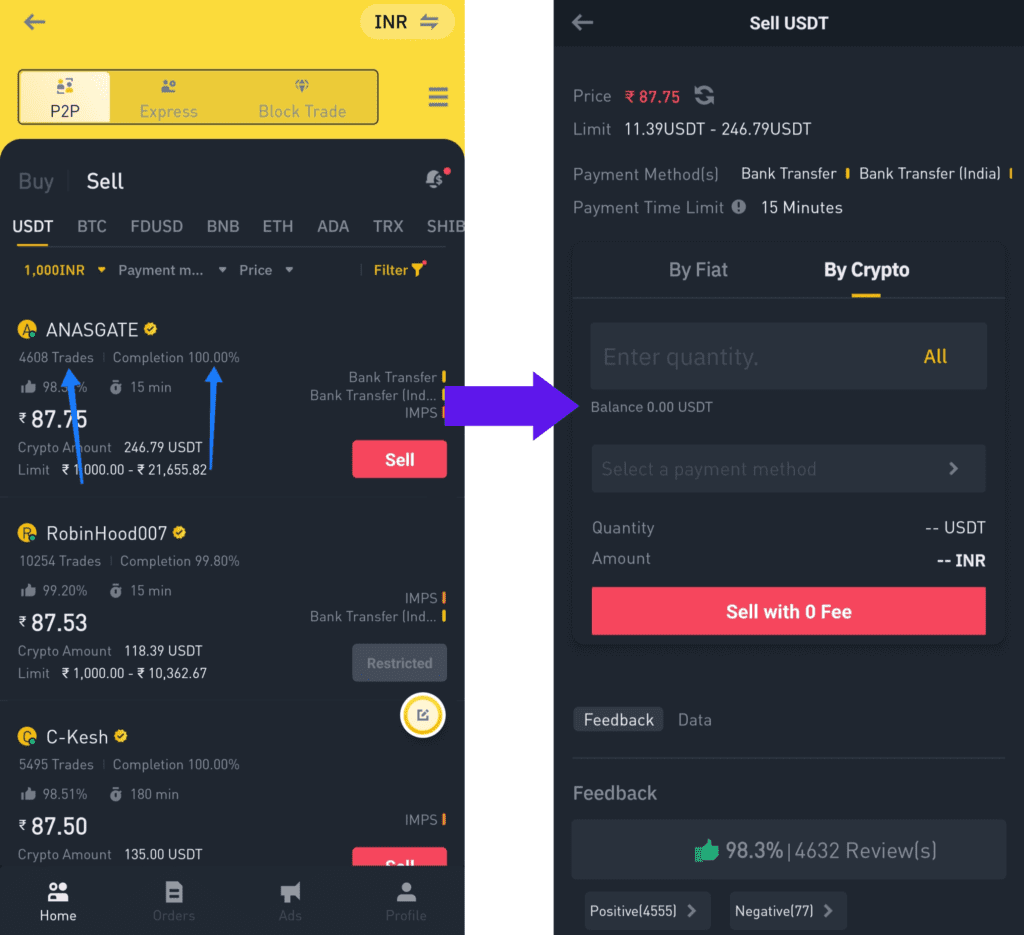 Step 5: Now a page opens in which there is a timer and buyer details. You just have to wait for the payment to appear in your bank account. After receiving, just click on the Payment received option (always remember, if you don't receive your payment in the bank, don't click on the "Payment received" option). Done! You get your money in your bank account by selling your crypto on Binance.
Gift card Method
Recently, some cases of bank freezes have been reported after P2P selling. Hence, P2P sometimes seems risky, so here is a risk-free method. To buy an Amazon gift card using crypto and then use it for Amazon shopping, recharge, or bill payment, hundreds of merchants also accept Amazon Pay, like Swiggy, Domino's, Faasos, Zepto, Myjio, Airtel, Uber, Ola, 1mg, Pharmeasy, Practo, Magicpin, BookMyShow, MakeMyTrip, Redbus, Rapido, Licious, Dream11, and MPL.
Methods of generating Amazon gift card using the crypto from your Binance account:

Go to the Binance app or website, Click on Profile on the upper left side. Click on "Pay".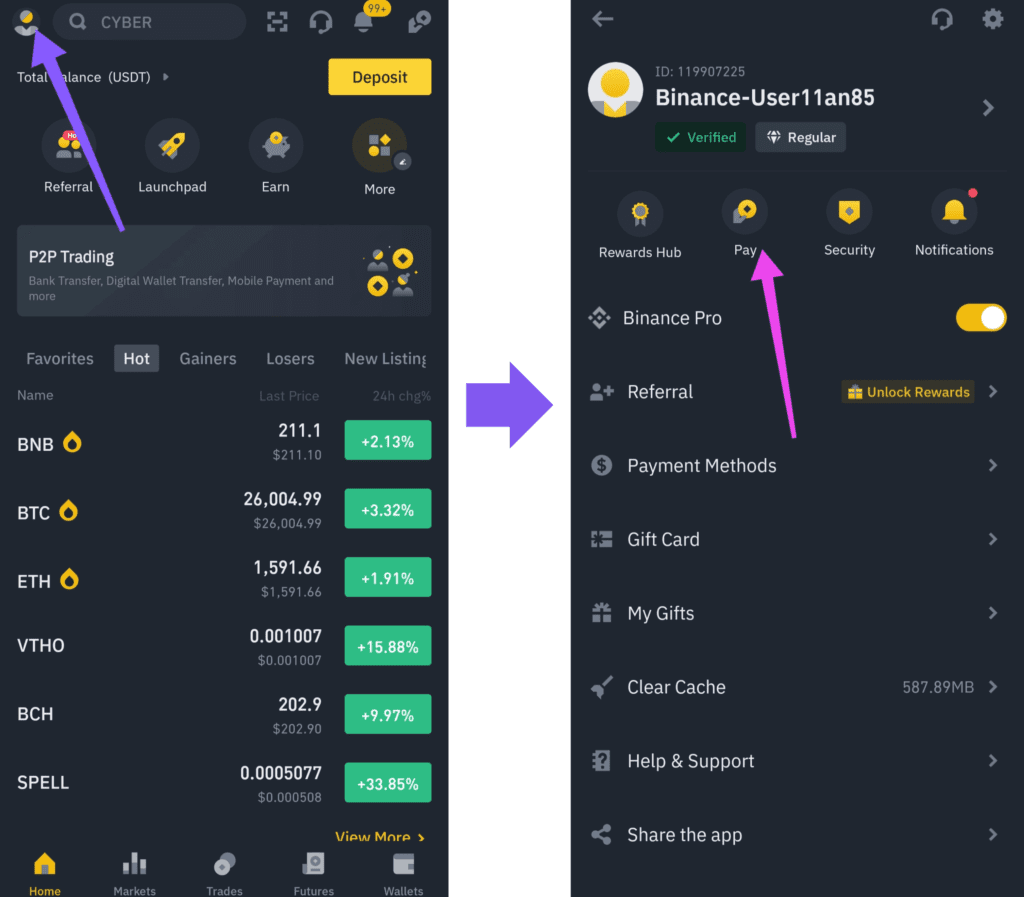 Tokenstore
Step 1: Scroll down and you'll see the Tokenstore option. Click on it.
Step 2: Search "Amazon India". Click on Amazon India. Select the amount (Min: 50 Rs, Max: 10,000 Rs) and click "Add to Cart".
Step 3: Click Checkout and enter your email for gift card delivery. Then pay with Binance Pay.
Bitrefill
Step 1: You'll find the Bitrefill option below Tokenstore. Click on it.
Step 2: Click the "amazon.in" option. Select Amount (Min: 50 Rs, Max: 10,000 Rs). Click "Add to Cart", enter your email for gift card delivery, and then pay with Binance Pay.
Coingate
Step 1: Click on Coingate. There are many options available for Indian users, like Amazon, Swiggy, Flipkart, etc.
Step 2: I would prefer Amazon. Click on Amazon, Select amount (100–10,000 Rs). Click "Add to Cart", enter your email for gift card delivery, and then pay with Binance Pay.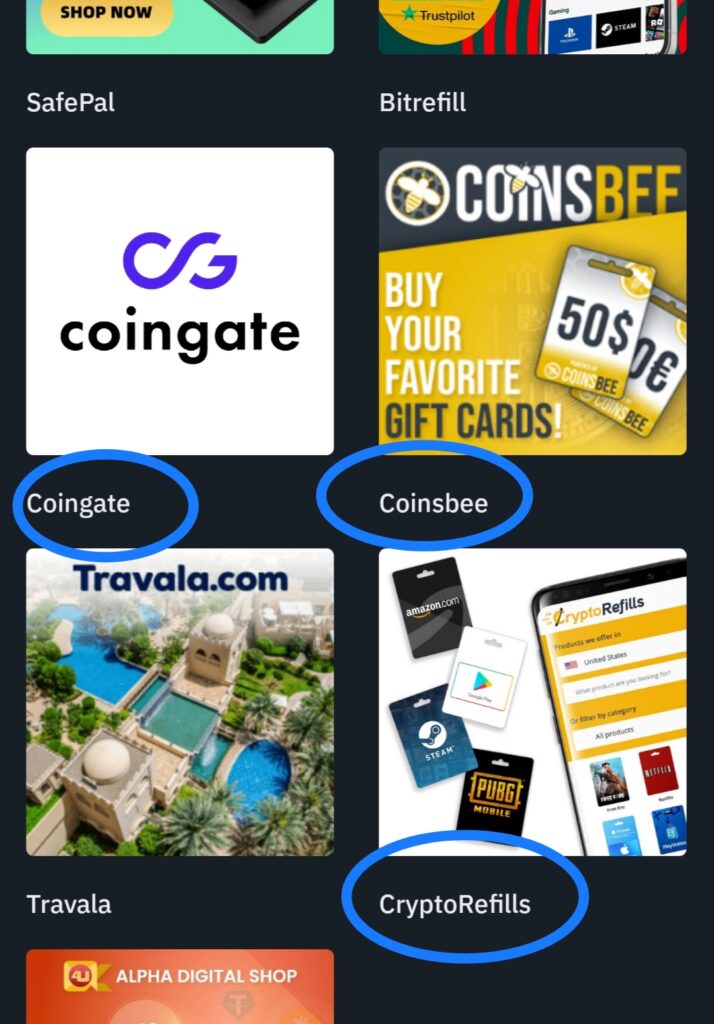 You can follow the same steps for Conisbee and CryptoRefills too.
I found Bitrefill to have the greatest prices, but you can compare prices before making a purchase.
Your gift card will be sent to the email address you provided during checkout. Copy the gift card, then add it to your Amazon account. You are now ready to use your cryptocurrency for the many purposes I listed earlier.
Also read: 10 CRYPTOCURRENCIES HAVE TREMENDOUS POTENTIAL BEFORE 2025
Via Local Exchange
You can transfer your crypto from Binance to a local crypto exchange (Wazirx, Bitbns), then convert those crypto into INR, and then withdraw your INR amount to your bank account. Here is a step-by-step process:
Step 1: Convert the amount of crypto you want in your bank account to LTC (Litecoin). (Why LTC? Because of the small transaction fee.)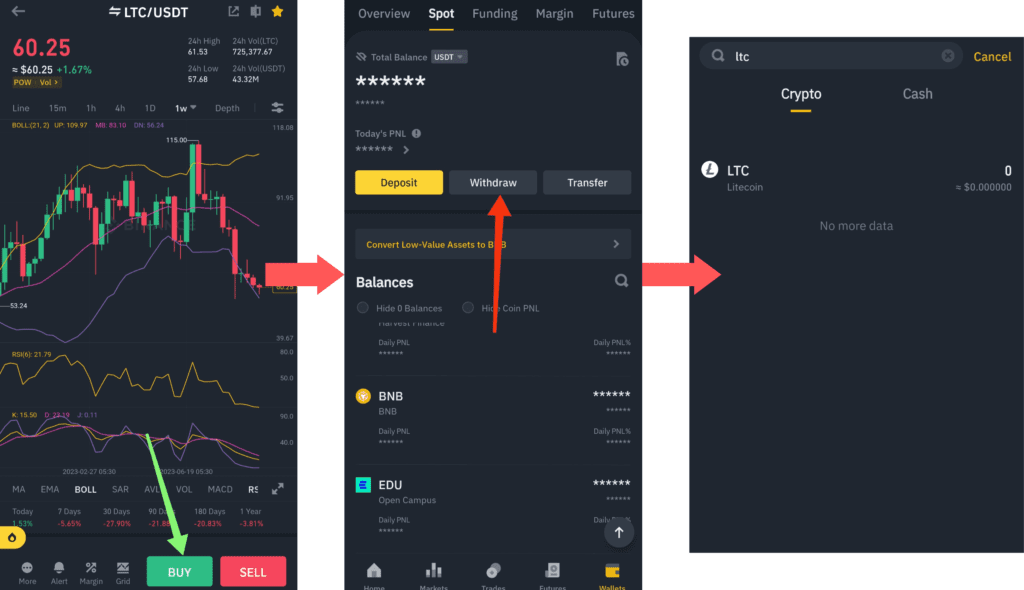 Step 2: Send LTC from Binance to your local exchange (say, Wazirx).

Step 3: Sell LTC to convert this amount into INR. Now withdraw INR to your bank account. Done!
Conclusion
Cryptocurrency investment is always risky because of its high volatility, so invest accordingly.
In Binance, buy and sell orders are only executable when your amount is greater than 10 dollars, so if your withdrawal amount is less than 10 dollars, then you can go with the P2P method or the gift card method.
In the P2P method, always keep in mind that nowadays so many scammers are out there, so manage your risk accordingly and choose a verified and trusted P2P buyer.
If you are selling your crypto, then you are liable to pay tax (flat 30% on profit and no tax on loss).
More reads you might like