Introduction
In the crypto space, crypto wallets are trending right now because of the FTX collapse. Nowadays, everyone is suggesting that store your cryptocurrencies in crypto wallets for funds safety. There are two types of crypto wallets: hot wallets and cold wallets. Hot wallets are those that stay connected to the internet, like Trust wallet and Metamask, while cold wallets are offline and available in hardware form, like Ledger wallet.
Trust Wallet is one of the most famous crypto wallets and is used by millions of users because of its features and easy-to-use interface. In 2018, Trust Wallet was acquired by Binance (the world's largest cryptocurrency exchange). Trust wallet provides us with each and every facility related to crypto, like buying crypto, storing crypto, stake crypto, swapping crypto, managing NFTs, etc. However, neither the Chrome extension nor the Trust Wallet application display any advertisements. So, how does Trust Wallet make money?
In this article, we'll discuss some of the revenue sources for Trust Wallet. Though Trust Wallet has never revealed its revenue sources or business model but we'll break down some of the potential revenue sources that could possibly generate good revenue for Trust Wallet.
Table of Contents
How to buy Crypto using Trust wallet
If you don't want to use decentralized exchanges and want to operate your crypto portfolio in one wallet, then it is very important for you to know how to buy cryptocurrencies directly and safely in a trust wallet. Here are the steps:
Step 1: Install the Trust Wallet application if you don't have it on your phone.
Step 2: Click the Buy button. (Always remember that not all cryptocurrencies can be bought using a trust wallet.) Now you'll see that many cryptocurrencies are available to buy.
Step 3: Choose which cryptocurrency you want to buy. Now the One Buy page will open. On this page, you'll see there are so many third parties available through which you can buy, but TrustWallet will select the best for you according to transaction speed, amount, and service charges.
Step 4: Enter the amount in dollars and click next. Fill out your card details and buy cryptocurrency. Done!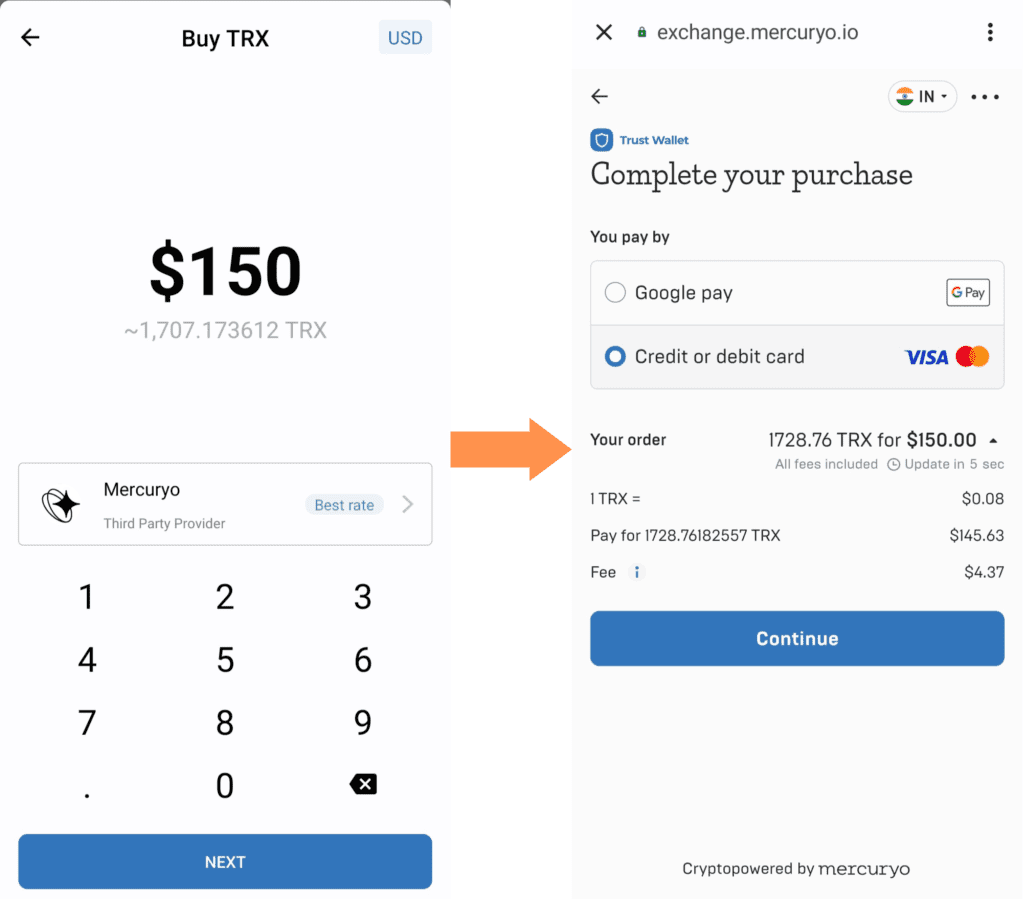 Advantages of Trust wallet
User interface: One of the main reasons why everyone loves TrustWallet is its interface. It is very easy to use; one can easily send or receive crypto and add any crypto or blockchain to their portfolio.
Staking feature: If you are a long-term investor in cryptocurrency, then the staking feature is for you. Staking allows you to earn passive income by staking your cryptocurrency. Trust Wallet provides you with this facility within the application.
Security: The Trust Wallet is very secure and safe if you are using it carefully. All your cryptocurrencies can be stored in one place, and you are the owner of those cryptocurrencies, not decentralized exchanges, if you store them in decentralized exchanges.
Buy cryptocurrency using your card: If you want to be anonymous, then a trust wallet is best. You can buy cryptocurrency using your card. In the case of decentralized exchanges, you have to give them government IDs for your KYC.
How does Trust wallet make money
Transaction fee (swap fee, send crypto, buy crypto)
If you are swapping a cryptocurrency in the DApps browser of your trust wallet, then there will be a transaction fee charged by you for a blockchain transaction. If you send crypto from your wallet to another wallet or to a decentralized exchange, then there will also be a transaction fee for a blockchain transaction. However, these transaction fees go to the network validators, but there might be a possibility that a fraction of the fee is retained by the trust wallet.
Additionally, Trust Wallet has partnered with third-party providers (Simplex, Moonpay, Ramp, Transak, and Mercuryo). If you buy cryptocurrency, a fee will be charged by these third parties, and there might be a possibility that a fraction of that fee will be accumulated by Trust's wallet.
This revenue source is a potential revenue source because Trust Wallet has never revealed this information publicly.
Staking Feature
Trust wallet allows you to stake your cryptocurrency to earn passive income within its application. Not all cryptos are available for staking, and the APY (annual percentage yield) of every crypto is different. It could be a possible revenue source that Trust Wallet might take a small percentage of the staking reward as a commission for providing the staking services on its platform.
Native token (TWT)
TWT (trust wallet token) is a native token of TrustWallet. When using Trust Wallet, TWT holders have a number of advantages, such as discounts on in-app cryptocurrency purchases and access to decentralised exchange (DEX) services. TWT holders can vote on Trust Wallet update ideas and participate in Trust Wallet governance, which allows them to influence how the app is developed.
As of September 2023, each TWT token value is around $0.81, with 1 billion of total supply. Most of its supply is held by the Trust wallet team and developer; in the future, they can sell their tokens to get some money for future expenses or a sustainable environment.
Partnership and collaboration
Trust Wallet often runs campaigns of partnership and collaboration with various blockchain projects or services. These campaigns will help both of them in terms of revenue or user base.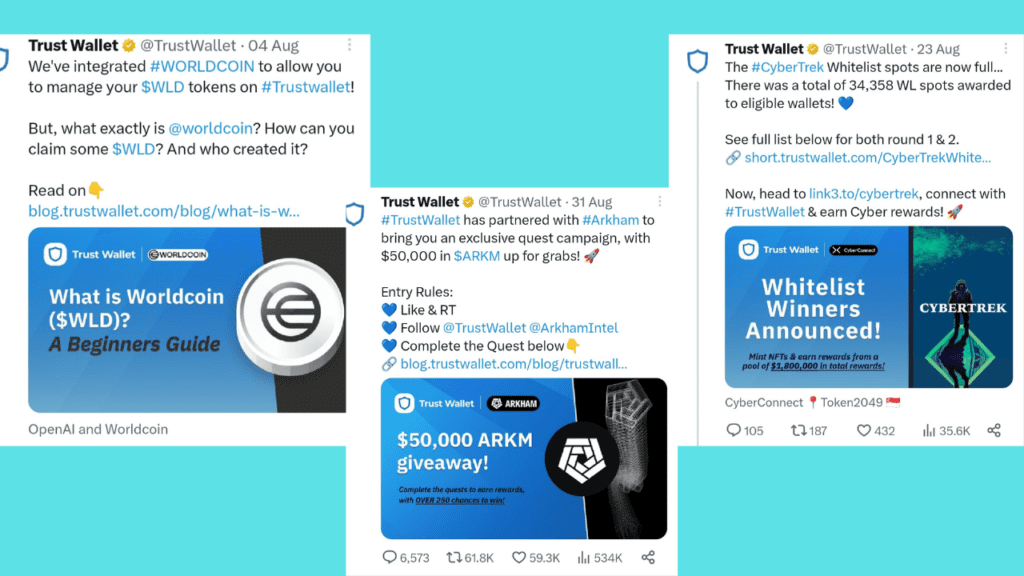 DApps
For blockchain-related functions or for features like swap, NFT, liquidity pools, and staking, Trust Wallet offers a wide variety of DApps. These DApps might be required to compensate Trust Wallet for including them in its app with a nominal charge or a revenue-sharing arrangement. These DApps receive greater traffic from Trust Wallet, and as a result, more transactions take place on DApps.
Twitter
Recently, X (formerly known as Twitter) announced and launched its monetize feature. On Twitter, Trust Wallet has an impressive following of 2.5 million (as of September 2023). This is the new source of income, although the amount is not significant right now. Maybe it will become a good source of revenue in the future.
Future potential Earning sources
Trust wallet has a huge customer base. They may in the future display some advertisements on their platform. In the future, Trust Wallet could profit greatly from partnerships or affiliate marketing. Furthermore, since Binance owns the trust wallet, it has access to and can use the data from blockchain transactions. In the long run, this will enable Binance to grow and, indirectly, increase its revenue.
Safety measures. Can Trust wallet be hacked?
Although Trust Wallet is very safe and secure, some fraud events are often reported. One should have the following in mind to prevent scams or hacks:
Seed Recovery phrase: A 12 or 16 word recovery phrase that will be necessary to retrieve your wallet in case of fresh installation or mobile lost scenarios is generated when a new user installs or sets up a cryptocurrency wallet. Share this recovery phrase with no one, as doing so will give them complete access to your cryptocurrency wallet.
Malicious links: Avoid clicking on any suspicious links that offer you airdrops or wallet services; instead, double-check the authenticity of the link source before clicking any links since such links could be dangerous and provide scammers access to your wallet.
Biometric Authentication: In your trust wallet application, enable biometric authentication. Biometric Authentication is required for the approval of any transaction from your wallet, so if your mobile device falls into the hands of someone who trying to steal your money, they won't be able to approve transaction or even can't open your trust wallet app.
Conclusion
Blockchain, digital assets, and cryptocurrency are all developing fields of technology, so do your study and manage risks wisely before taking any action with your money. Trust wallet is secure in and of itself, but only under the condition that it be utilised correctly and with care. Furthermore, because of the high fees, I won't advise you to purchase cryptocurrency through the trust wallet application; instead, buy it from any decentralized exchange and then send it to your trust wallet.
Trust wallet is available for Android, IOS, Desktop (Chrome extension). Trust wallet is already far ahead of its rivals. Let's watch how cryptocurrency and crypto wallets develop in the future to improve the quality of our lives.
More reads you might like